March 13th, 2018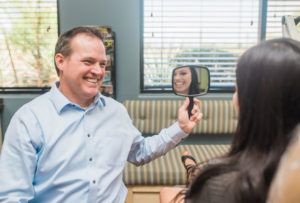 Visiting the orthodontist can naturally cause some anxiety. But never fear, at Nathan Davis Orthodontics, the whole team makes your first visit informative and fun!
First you'll be greeted by OFFICE & SCHEDULING COORDINATORS: Debbie lights up the front desk at our Mesa/Gilbert office and Cindy shines at our Chandler location. Our office coordinators also help set up future appointments.
Let's get you started: During your initial visit and consultation you will meet with Gina, our TREATMENT COORDINATOR, to review your concerns and reasons for seeking orthodontic treatment. Gina will assess orthodontic needs, create a treatment plan along with Dr. Nathan T. Davis and review financial options that work best for you.
Come on back: As you make your way back to our comfortable
chairs, one of our CLINICAL ASSISTANTS will prepare you for your visit with the orthodontist. These special ladies take x-rays and photos to provide Dr. Davis all the information necessary to begin your customized treatment conversation.
The Doctor will see you now! DR. NATHAN T. DAVIS sees every patient at every visit! His expertise and experience directs each patient's treatment plan from the initial consultation to the special day when braces are removed! 
Dollars & cents: As INSURANCE & FINANCIAL COORDINATOR, Sarah handles all of our patient contracts, billing and insurance. She will help you make "heads or tails" of all your questions relating to payment for your services.
Put on a Happy Face: OFFICE MANAGER GINA keeps the office running smoothly and helps our patients stay happy from the first to last visit!