October 23rd, 2018
2018 October National Orthodontic Health Month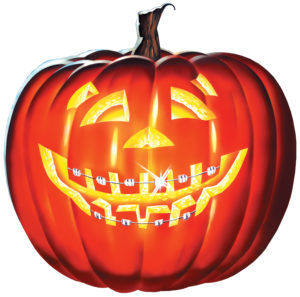 Halloween and fall weather gets us all excited for October, but so should the celebration of beautiful smiles!
Without talented orthodontists like our very own Dr. Nathan T. Davis with offices in Mesa/Gilbert and Chandler many smiles wouldn't be as big and bright as made possible through educated and artistic treatment.
In fact, there are a few myths in need of busting here:
Anyone who provides braces or aligners is an orthodontist. This IS NOT TRUE including general dentists and online companies. Only an orthodontist has the training, the experience, and the treatment options to give you your best smile.
Orthodontists are expensive. EVERY case is different and actual costs vary greatly. Dr. Nathan T. Davis offers free consultations and flexible payment plans to assist in receiving proper treatment and to prevent irreversible damage often experienced by using less educated alternatives.
 Office visits are not necessary to get straight teeth. This is absolutely not true.
It's essential to regularly visit the orthodontist and comply with instructions to achieve best results. Orthodontic treatment definitely takes teamwork!
4. Orthodontic treatment takes multiple years. Remember, every smile is different so every treatment plan is also different. This is why a reputable orthodontist like Dr. Nathan T. Davis is needed to realistically estimate the amount of time needed for desired results.
5. Orthodontic treatment is only cosmetic. WRONG. Actually, orthodontic treatment aligns your bite, which creates teeth that fit better, work better, and have a pleasing appearance.
6. Orthodontists only offer braces. On the contrary. Many types of treatment options are available with Dr. Nathan T. Davis who he is uniquely qualified to recommend the best option, from braces to aligners, based on most current practices and individual needs.
7. Orthodontic treatment is just for kids. You're never too old to have a beautiful smile! Dr. Davis enjoys providing the smiles that all ages are meant to have! Call 480-969-8500 or check out our website for more information at davissmiles.com.