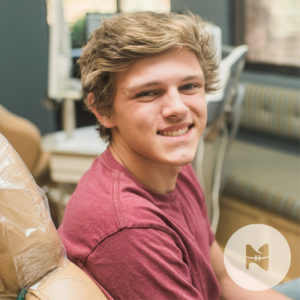 New Year, New Smile
Ever wonder if you're a good candidate for orthodontic treatment? With so many reasons to get treatment, in addition to aesthetics, it's worth a quick, professional orthodontic opinion to get your best smile!
"Each time you smile you throw a little feel-good party in your brain." Meg Selig
Seeing a licensed orthodontist is critical due to their specialized education and experience. Some general dentists handle mild orthodontic care but are limited in their scope by complexity and often hand off cases to orthodontics in the end.
Dr. Nathan Davis feels that consultations are so important to making such an important decision, that he offers comprehensive consultations at no cost. This includes full panoramic digital images and a personal meeting with our treatment coordinator and Dr. Davis. The cost savings to you is at least $200 because typical panoramic images cost between $200 and $700. (Our panoramic image is an x-ray taken by a machine that rotates around your head to provide a picture of teeth, jaws and other important information.)
How Long Does a Consultation Take?
Consultations take approximately one hour. After that hour you'll walk out of our office with an individualized treatment plan and projected fee schedule. It's also a great way to get a feel for the office and staff to determine personal fit.
Call 480-969-8500 today to schedule your complimentary orthodontic consultation with Dr. Nathan T. Davis in either our Mesa/Gilbert office or Chandler. We look forward to seeing you and helping you achieve the smile you were meant to have!